It was record-breaking cold this morning as a deep freeze cast over Tampa Bay.
Wind-chill advisories are out as feels-like temperatures sit between a bitter 20 and 30 degrees.
Tampa tied its recorded for the lowest temperature of 29 degrees on Jan. 18, 1981 while St. Petersburg broke its record dropping a degree lower than its 1959 record of 33 degrees.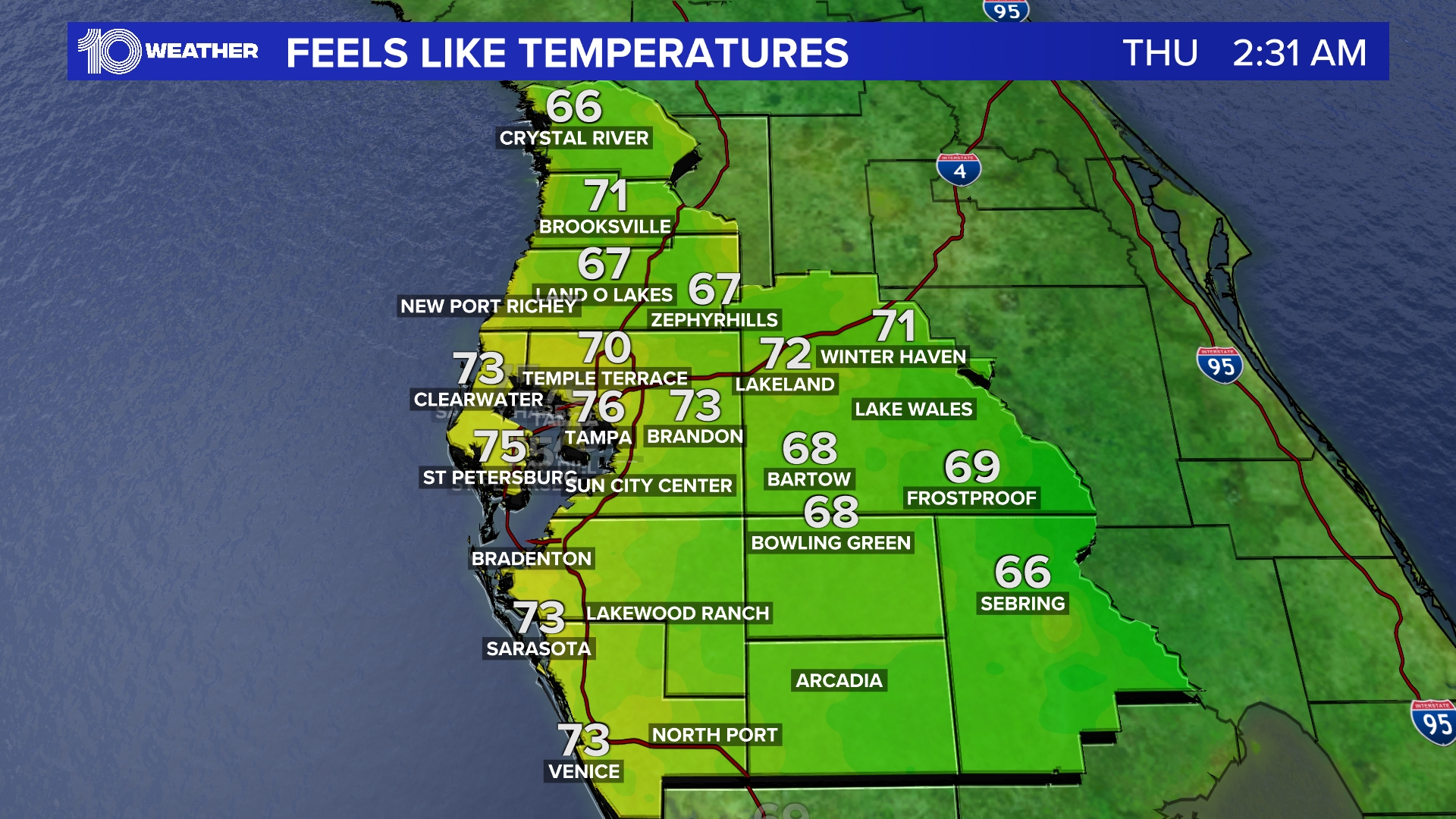 10News WTSP
Hard-freeze watches and warnings had been issued across Tampa Bay that lasted until at least 9 a.m. The below-freezing temperatures even turned water spill from a truck into traffic-halting black ice on the Veterans Expressway early this morning.
"Most thing that you need to know is that it's cold," said WTSP 10Weather meteorologist Grant Gilmore, "and plan accordingly."
It hasn't been this cold in Tampa since 2010, Gilmore. That's 2,929 days ago, when on Jan. 11 it was a frigid 25 degrees.
During the early-morning chill, some Duke customers lost power, like the St. Petersburg neighborhood Feather Sound.
Across Florida, about 8,000 customers were still without power by 10 a.m., according to the power company. About half of those were in Pinellas County.
KEEP TABS Live Duke outage map
"Low temperatures will put higher stress on mechanical equipment used to generate and deliver electricity," Duke said in a statement. "Isolated equipment problems are possible, which could result in scattered outages."
Freeze warnings had already prompted counties across the Tampa Bay area to open cold shelters overnight as temperatures were forecast to plunge to 32 degrees or colder for at least two hours.
"Even though we've got full-on sunshine, it's going to take a lot for our temperatures to start warming up," Gilmore said.
It will be up to the low-to-mid 50s by this afternoon. But even then, temperatures are about 15 to 17 degrees colder than they usually are this time of year, according to Gilmore.
Brisk northerly winds blowing at 10 to 15 mph are enchaining the chill, so it feels like it's in the low 20s in some areas.
Those wind patterns and cool temperatures are expected to last the next couple days before things warm up and start to get normal by the weekend.
PREVIOUS STORY: It's not that cold in Florida. But why does it feel so cold?
Lows for the rest of the day are in the mid-30s, lower to the north and inland, which prompts another freeze watch for late Thursday night into Friday morning.
This nasty blast of cold air departs on Friday, with highs creeping back creeping back into the low to mid 60s.
On Saturday highs will reach 70 and continue to climb heading into next week.
MORE WEATHER
ALERTS: The latest advisories from the National Weather Service
DOWNLOAD: Get the tbo Weather App and see where storms are headed
LIVE RADAR: Interactive storm track, hourly outlooks, 10-day forecasts and weather alerts