As the week closes out, Tampa Bay can expect continued abnormally high temperatures, a lot of sunshine and just a slight chance of scattered showers.
But at least the heat isnít expected to be record-breaking.
For the past four days, the bay area set record highs in the mid to upper 80s, around 14 degrees hotter than an average February day.
"Itís an extremely rare event to get four record-high temperature days in a row, in the winter," said Rick Davis, a meteorologist for the National Weather Center office in Ruskin.
That heat was punctuated on Tuesday, when the high of 87 was the warmest ever recorded in Tampa Bay, according to the National Weather Service.
"The whole month has been incredibly warm," 10Weather WTSP meteorologist Grant Gilmore. "Over 10 degrees above the average for our high and low temperatures. Itís the hottest February we have on record."
Davis attributes this warm winter week to a high-pressure system that has settled on top of Central Florida. Normally, these systems would move around and disperse warm air, but this one has lingered a lot longer than normal.
But the system should move into the Gulf of Mexico by early next week, Davis said. And by next weekend, a cold front could sweep in and bring temperatures closer to the average.
Davis assured that despite warm temperatures, itís still winter in Florida, although it will be a warmer and drier one than normal.
FUN FACT: We have had 4 straight days of record high temperatures in Tampa this week, but just last year we had 5 straight days (May 16-20) of record highs. #flwx #Tampa #Climate

— Grant Gilmore (@grant_gilmore) February 23, 2018
Tampa Bay has moderately clear skies and a low in the upper-60s. The only fog cover drifts around Citrus County for now. By Friday afternoon, all fog should clear and plenty of sunshine will litter your afternoon lunch.
Temperatures will be slightly cooler, Gilmore said, with Fridayís high expected to reach 85 ó 2 degrees shy of the record set in 1949 ó under partly cloudy skies and with a low chance of scattered showers.
Lows will dip to around 67 under mostly clear skies.
This weekend promises ideal weather for the opening weekend of spring training for the Grapefruit League , with highs in the low 80s and lows just under 70. Rain chances will remain slim, Gilmore said.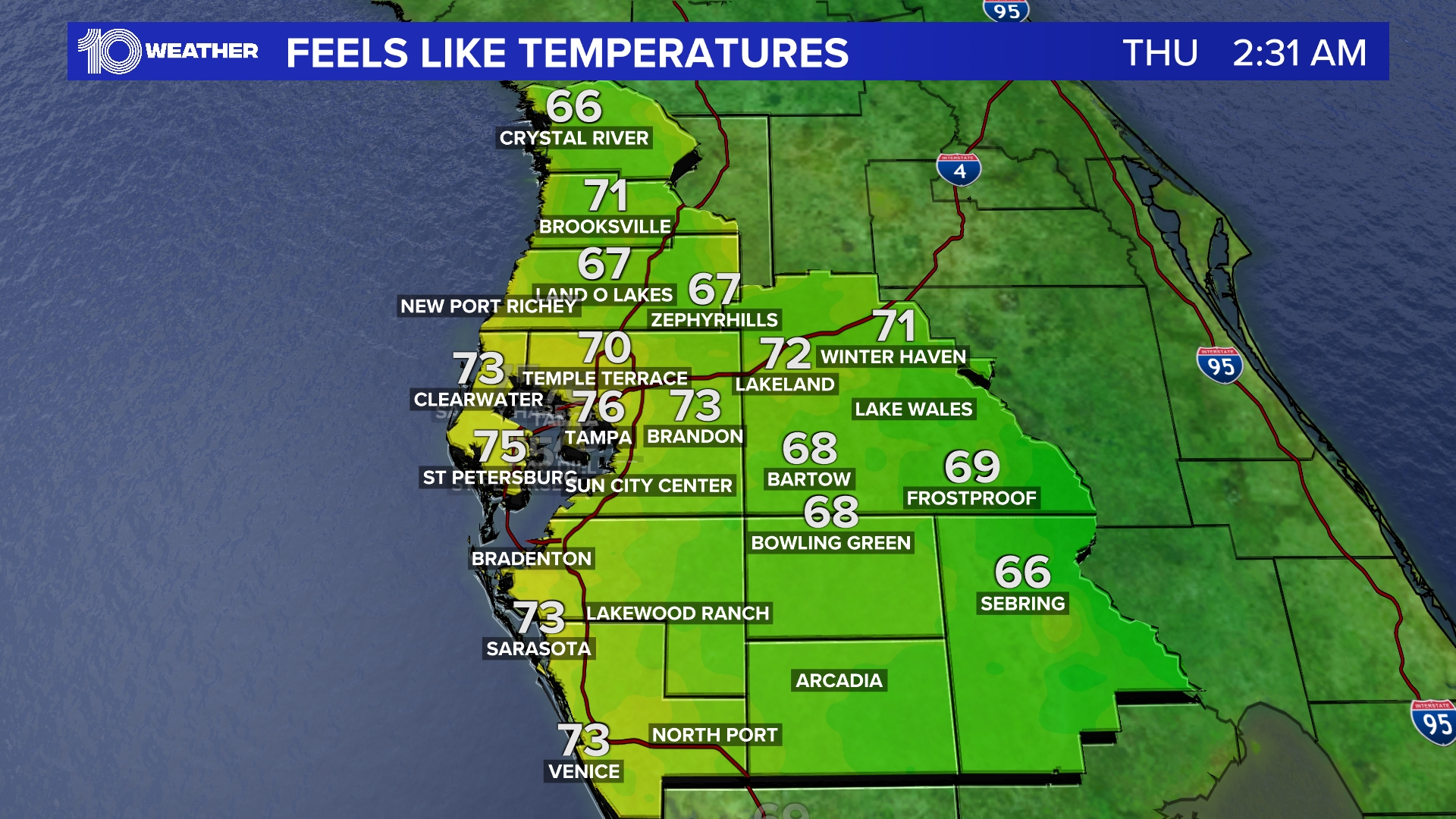 10News WTSP
MORE WEATHER
DOWNLOAD: Get the tbo Weather App and see where storms are headed
LIVE RADAR: Interactive storm track, hourly outlooks, 10-day forecasts and weather alerts
ALERTS: The latest advisories from the National Weather Service