Tampa Bay can finally bid farewell to this week's stretch of brutally cold conditions.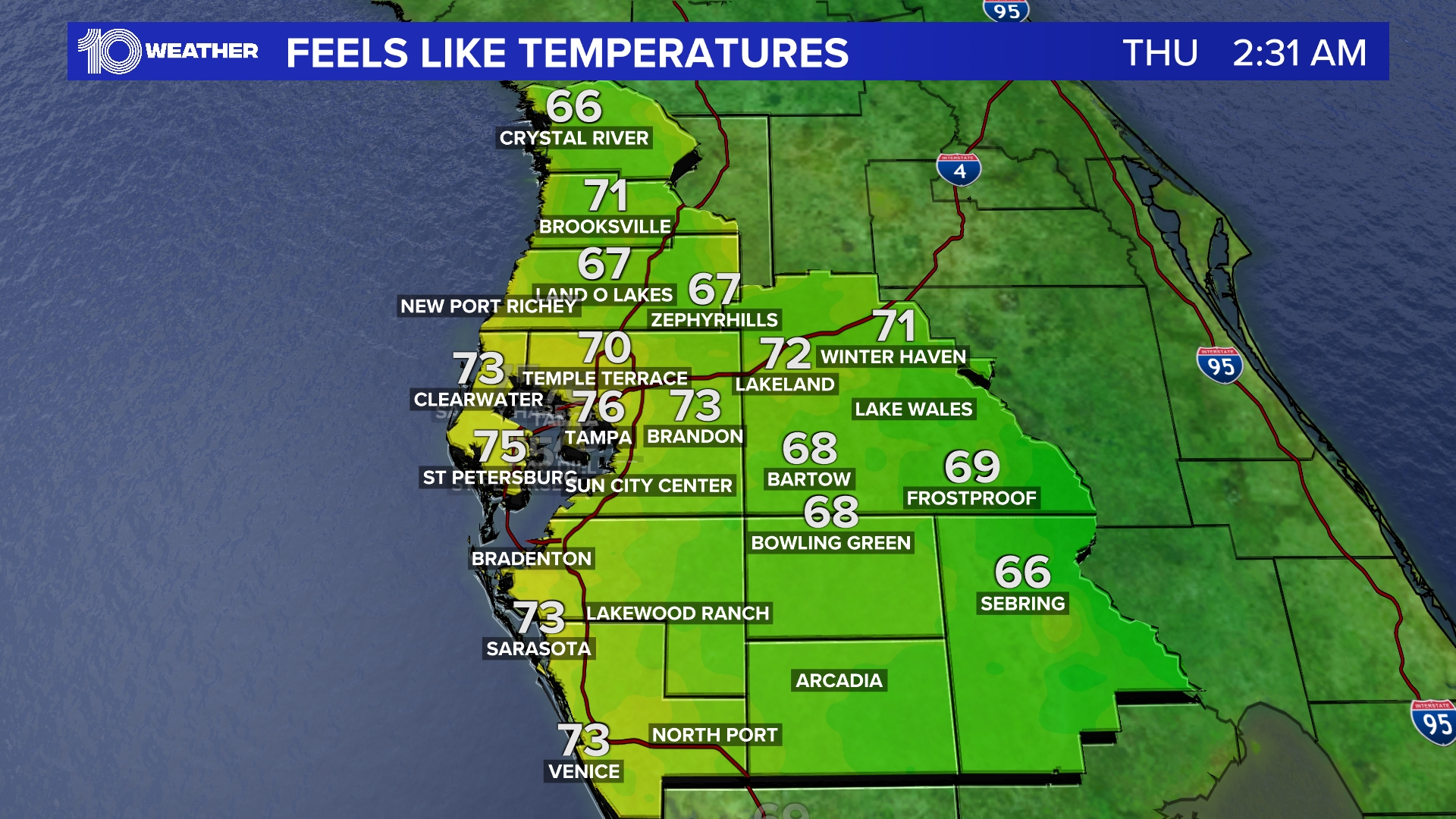 10News WTSP
It's a slow return to normal, as some residents still woke up to frost and sub-freezing temperatures, 10Weather WTSP meteorologist Grant Gilmore said.
Inland areas, as well as coastal Pasco County and to the north, remained under a freeze warning until 9 a.m. as temperatures were at or below freezing in some locations.
Conditions were a bit warmer in St. Petersburg, where wake-up temperatures were in the low-40s — a far cry from 24 hours earlier, when Thursday's arctic blast caused concerns for farmers as resulted in burst water pipes in Tampa.
RELATED: Tampa Bay record lows burst pipes, threaten berry and fish farms
While it's not as cold as Thursday, thanks in part to reduced winds, those calm conditions resulted in frost forming across the Tampa Bay, Gilmore said.
Clouds are streaming in from the west, but those move out as high pressure from the north begins to take control, Gilmore said.
ALERTS: The latest advisories from the National Weather Service
That will result in a warmer afternoon, as highs will inch toward the low 60s under partly cloudy skies — still about 7-10 degrees below normal, but a precursor to more normal conditions for the Gasparilla Children's Parade on Saturday and into Sunday, Gilmore said.
Lows Friday night will only drop into the mid 40s, with gradual warming throughout the day. Morning temperatures will quickly reach the low to mid 50s and climb to a high of around 70, Gilmore said.
The warming trend continues on Sunday and into next week, with highs in the low 70s.
MORE WEATHER
DOWNLOAD: Get the tbo Weather App and see where storms are headed
LIVE RADAR: Interactive storm track, hourly outlooks, 10-day forecasts and weather alerts