Catching you up on overnight happenings, and what you need to know today.
• Expect rain today and through the rest of the week, according to 10Weather WTSP. It will likely be a wet Thanksgiving.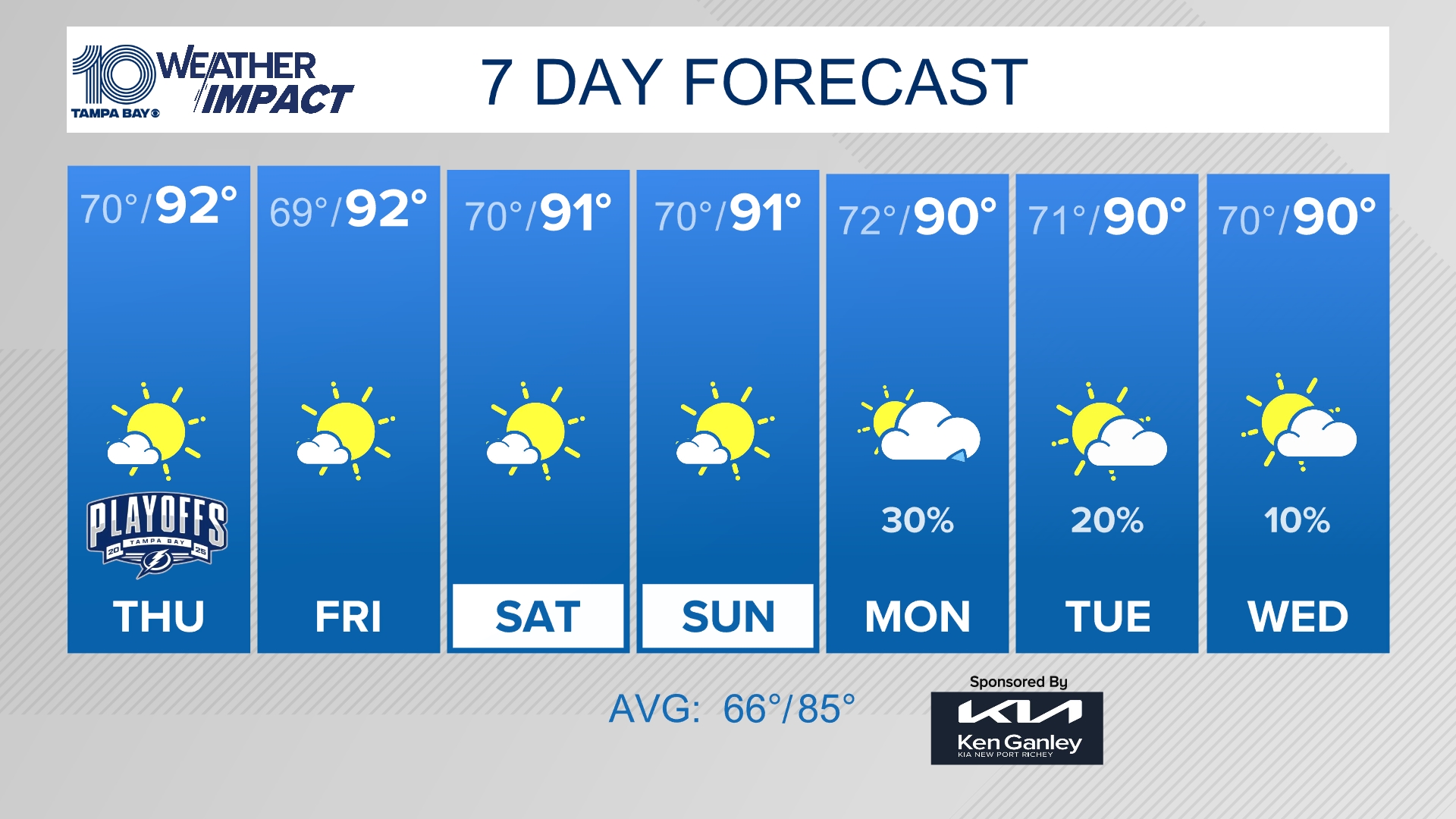 10News WTSP
• As you head out for your morning commute, check out our live blog for the latest traffic updates and road conditions across Tampa Bay.
• Recent tragedies have changed the way St. Petersburg secures large events at North Straub Park. The city has installed concrete blocks that line a portion of Beach Drive and will remain throughout the holiday season. Read about the security strategy.
• The number of sexual assaults reported to officials at MacDill Air Force Base has decreased dramatically during the past three years even as reports across the military have increased slightly, new Pentagon statistics show. Officials at MacDill couldn't pinpoint what led to the decrease, according to Air Force Capt. Jessica Brown with the 6th Air Mobility Wing, the base's host command.
• Before he crashed, Roy Halladay flew within 75 feet of houses and skimmed the surface of the Gulf of Mexico, according to a report published Monday by the National Transportation Safety Board. The report, which did not address the cause of the crash, described in detail the 17-minute flight on Nov. 7 that ended when the former Major League Baseball pitcher's light sport aircraft dove into the water, killing him. Halladay's Icon A5, a two-seat amphibious aircraft with foldable wings that allow it to be towed on roadways, had a data recorder that logged GPS and engine information and flight parameters, allowing the NTSB to assemble a comprehensive account of what preceded the crash.
• His family described him as a loving, kindhearted father. His neighbors regarded him as quiet and respectful. His friends recalled him as "happy-go-lucky," a "laid-back, fun guy." On Monday, Pasco County jurors heard the family of Adam Matos defend him, and today they will hear closing arguments and decide whether he should be put to death in the brutal slaying of four in Hudson in 2014.
• From our food editor, here are five ideas for easy Thanksgiving appetizers and also a Thanksgiving day planning guide.
•Movie critic Steve Persall has a first look at Richard Linklater's tragicomedy Last Flag Flying, which reunites three Vietnam veterans for a somber road trip.
• Stay on top of the latest news in Florida politics by signing up for the Daily Buzz newsletter. Our first-rate political reporters send out the top five stories every Monday through Friday at 3 p.m. Sign up today.
• Here are the top things to do today in Tampa Bay, including a new 4-D theater at the Florida Aquarium; getting into the holiday spirit with a screening of The Polar Express, in which a young boy takes a train trip to the North Pole; and Irma Thomas, The Blind Boys of Alabama & The Preservation Legacy Quintet on the Mahaffey Theater stage for a night of Southern and New Orleans soul.