Catching you up on overnight happenings, and what you need to know today.
• For the latest legislative coverage from Tallahassee, keep checking The Buzz, which is updated throughout the day by the reporters of the Times/Herald Tallahassee Bureau.
• Wear sunscreen and stay hydrated. Temperatures will hover in the mid-80s as the bay area experiences what could be record high temperatures this week, according to 10Weather WTSP. Aside from the heat, watch out for early-morning fox, especially inland.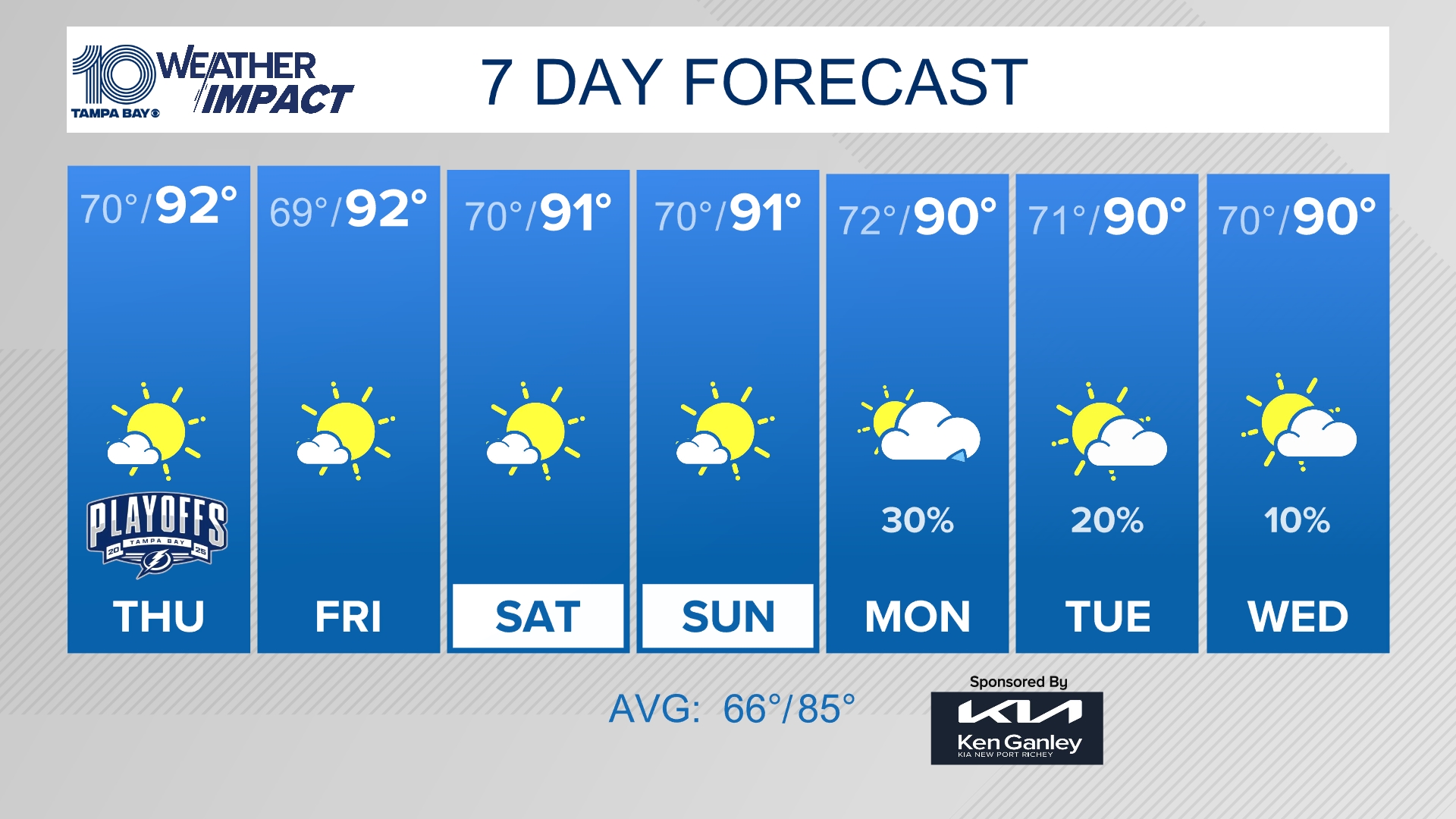 10News WTSP
• As you head out for your morning commute, check out our live blog for the latest traffic updates and road conditions across Tampa Bay.
• Here are the top things to do today in Tampa Bay including Broadway's Phantom of the Opera, a Cirque du Soleil show and the Pasco County Fair.
• After the shock of the Parkland school shooting began to set in, and the nation began to comprehend the 17 murders committed Wednesday, there was a crescendo of noise from the Florida Legislature. But how do they propose to stop these chronic, uniquely American tragedies? Pieces of the debate surrounding gun control are still tainted by partisanship, but in other areas, the party lines have begun to melt away, according to a survey of Florida's lawmakers conducted by the Times/Herald. Reporters conducted the poll through an email blast to all lawmakers the day after the shooting, as well as through interviews in person and over the phone.
• Commando leaders from around the globe are coming to Pinellas County this week to discuss common threats in an increasingly unstable world. Several several commando leaders are set to attend this week's Global SOF Foundation Symposium at the Innisbrook Golf and Spa Resort in Palm Harbor. Howard Altman explains what's on the agenda.
• The Pinellas school system is planning for the very real possibility that it will have to turn three schools over to a "external operator:" Lakewood and Fairmount Park elementary schools and Azalea Middle School would be turned over to a company called Learning Sciences International. Colleen Wright explains why.
• "Camp Dis-A-Ray," at least that's what Marc Topkin dubbed it, opened for non-pitchers Monday in Port Charlotte. No one's happy, though some fans found humor in the name of the team's new blog.
• The Bucs hope they took a step toward fixing the NFL's worst pass rush Monday by hiring Brentson Buckner as their defensive line coach. Rick Stroud, who broke the news, has more to say about the hire on his weekday podcast "Sports Day Tampa Bay". Listen by clicking here.
• Speaking of the Bucs' defensive line, stop by our Bucs channel early Tuesday morning as Thomas Bassinger checks the logic on a prevailing theory that Tampa Bay would be better off without Robert Ayers.
• Unlicensed contractors have been brazenly operating in Pinellas County without fear of the law, said Pinellas Sheriff Bob Gualtieri. Now he hopes stings like this weekend's "Operation Drop the Hammer" will scare unlicensed contractors to obey the law and clean up their act. Mark Puente explains what the sheriff hopes those 26 arrests will do to help solve the problem.
• Last year the St. Petersburg-Habana Yacht Race was celebrated as more than a competitive regatta to Cuba's capital city of Havana. It had been cancelled in 1958 but relaunching it in 2017 was hailed as a reflection of the detente started under President Barack Obama. The event returns this month, but in a much different political climate, Paul Guzzo explains.
• Performing arts critic Andrew Meacham checked out The Phantom of the Opera now playing on the Straz Center stage. He can see why it remains one of the top-grossing musicals of all time. And he checked out the Cirque du Soleil show that is playing in Tampa through mid-March, called Volta. Here are 5 things that make Volta different and fun
• Adult entertainer Stormy Daniels was in Tampa this weekend to cash in on the attention from her reported affair with President Donald Trump. Pulitzer Prize-winning writer Lane DeGregory captures the scene at tampabay.com.
• Never buy a can of tomato soup again, our panel of taste testers agreed, after sampling 17 brands of peeled, whole tomatoes They found to their surprise that their favorites had very pronounced flavors.