Catching you up on overnight happenings, and what you need to know today.
• For the latest legislative coverage from Tallahassee, keep checking The Buzz, which is updated throughout the day by the reporters of the Times/Herald Tallahassee Bureau.
• Another warm week is in store, with highs hitting the low 80s and overnight lows staying near 70, according to 10Weather WTSP.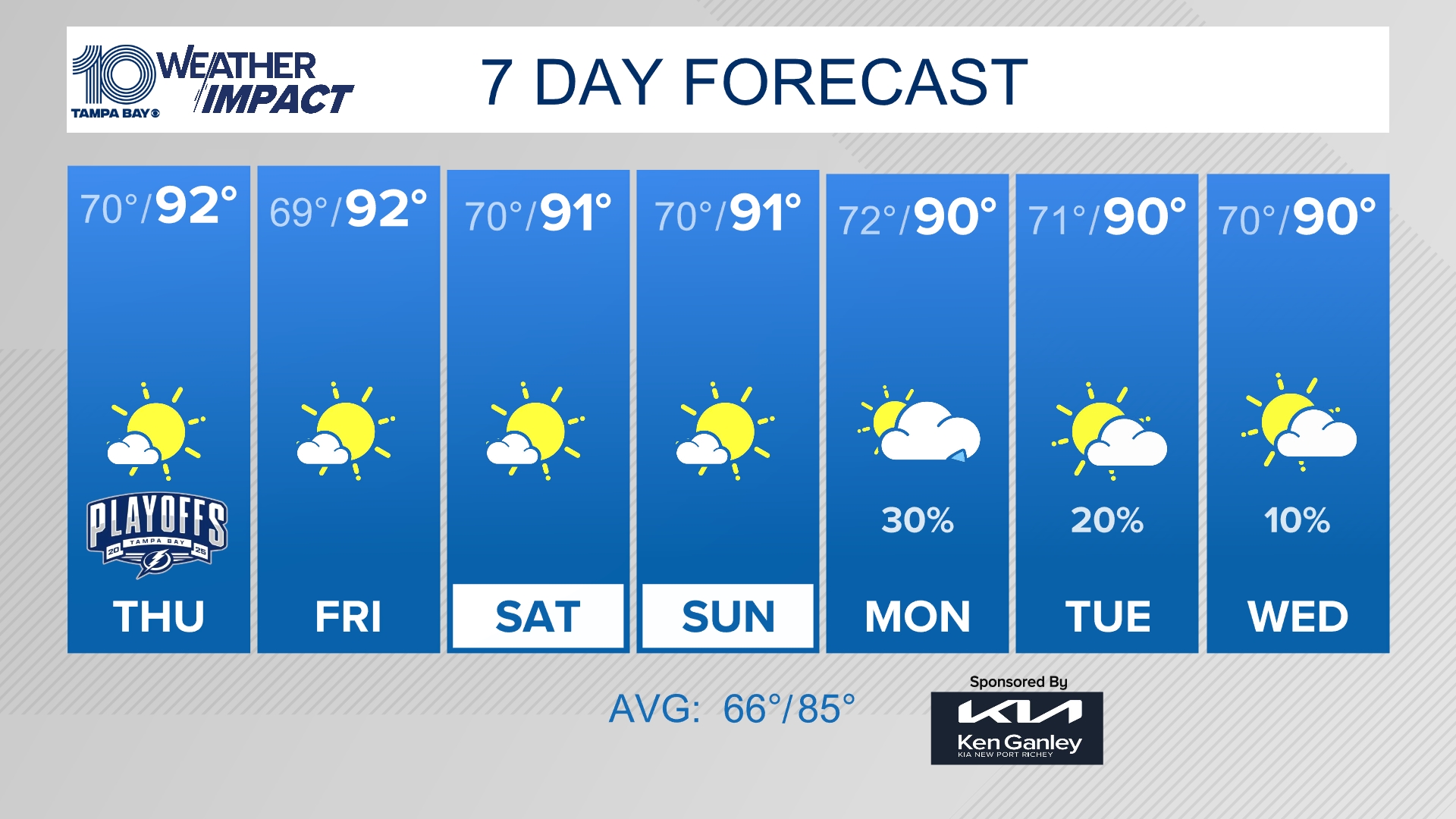 10News WTSP
• As you head out for your morning commute, check out our live blog for the latest traffic updates and road conditions across Tampa Bay.
• A hundred students from Marjory Stoneman Douglas High School in Parkland will travel to Tallahassee for a march on the state Capitol on Wednesday in the first organized protest of their #NeverAgain movement. Their demand: that Florida legislators use the remaining three weeks of their annual session to revise state mental health and gun laws to forestall a repeat of the Broward County school shooting that killed 17 students and staff members.
• Nikolas Cruz was immature, quirky and depressed when James and Kimberly Snead took him into their Parkland home. But he was pleasant and seemed to be growing happier, they said. How the 19-year-old turned into a man now arrested and charged with 17 counts of first-degree murder still baffles them. "We had this monster living under our roof and we didn't know," Kimberly Snead told the South Florida Sun Sentinel in an exclusive interview Saturday. "We didn't see this side of him."
• Now that the Tampa Bay Rays have said they want a site in Ybor City as the home for their new ballpark, the pressure is on the region's business community to support the move by buying more tickets, booking more suites and putting more money into sponsorships with the team. But will they do it? Times reporters Richard Danielson and Charlie Frago surveyed more than three dozen bay area companies about whether their support for the Rays will go up if the team moves to Tampa. Check out what executives said.
• The Warrior Games were established in 2010 as a way to enhance the recovery and rehabilitation of wounded warriors. For its first four years, the event was held at the U.S. Olympic Committee's facility in Colorado Springs, before being hosted by the individual services. But in December, the Pentagon awarded the games to SOCom for 2019, which has decided to stage them off-base next year to offer greater access to a community that already is showing tremendous interest. And now the real work of putting on a major sporting event that will bring some 300 athletes and about 1,200 family members here is under way. Howard Altman hjas the details.
• Fifty years ago this week, more than 25,000 teachers across Florida walked away from their classrooms, citing low pay, poor funding, a lack of planning time, missing materials, and more. Their strike yielded some important results, including raises and, eventually, guaranteed collective bargaining. But now, 50 years later, teachers say the pendulum has swung back. Hoping to draw attention to their situation, and to the historical anniversary, the United School Employees of Pasco will hold a rally in the heart of Speaker Richard Corcoran's legislative district Monday afternoon. The group has invited colleagues from Pinellas, Hillsborough and Hernando counties, as it enters a campaign in the final weeks of session to stop some of the more aggressive measures being pushed in the 2018 session.
• President Donald Trump's former campaign manager traveled to Sarasota this month to rally for Florida House candidate James Buchanan, a Republican in a tight race against Democrat Margaret Good. At a rally, Corey Lewandowski told a crowd that "50 seats have already changed hands from the Republicans to the Democrats since Donald Trump was elected." It was a prescient message as Good defeated the Republican, but was he on the mark? Read PolitiFact Florida's analysis.
• The Parkland tragedy has put Sen. Marco Rubio in the spotlight over comments he's made about gun laws and the significant financial support he's received from the NRA, more than $3 million in contributions to his campaigns or through outside groups. Rubio has pushed back while also seeking a response to the tragedy, indicating Sunday he supports "red flag" legislation at a state level that aims to prevent violent people from obtaining guns. He's also talked of improving the background check process.
• Columnist Ernest Hooper writes that we've seen a post-9/11 generation come of age, stunned by mass shootings and political divides. Soon they'll be able to vote, hold elected officials accountable, demand change and eventually seek office. He hopes the anger being channeled into action portends real change.
• The mixed-use rebirth of the old Tampa Armature Works warehouse is proceeding in stages. First up: last month's debut of the new ballroom, followed closely by the opening of more than a dozen vendors in the Heights Public Market food hall. Coming soon: Bay 3, an 11,000-square-foot space with views of the Hillsborough River on the second floor of the Armature Works. Richard Danielson has the details.
• Plan your week! Here are the top things to do this week in Tampa Bay including R&B songstress Mary J. Blige, the Clearwater Sea-Blues Festival and the Monster Energy Supercross Championship returns to Tampa