Catching you up on overnight happenings, and what you need to know today.
• We'll see temperatures in the low 70s today as highs march toward 80 degrees by Monday, according to 10Weather WTSP.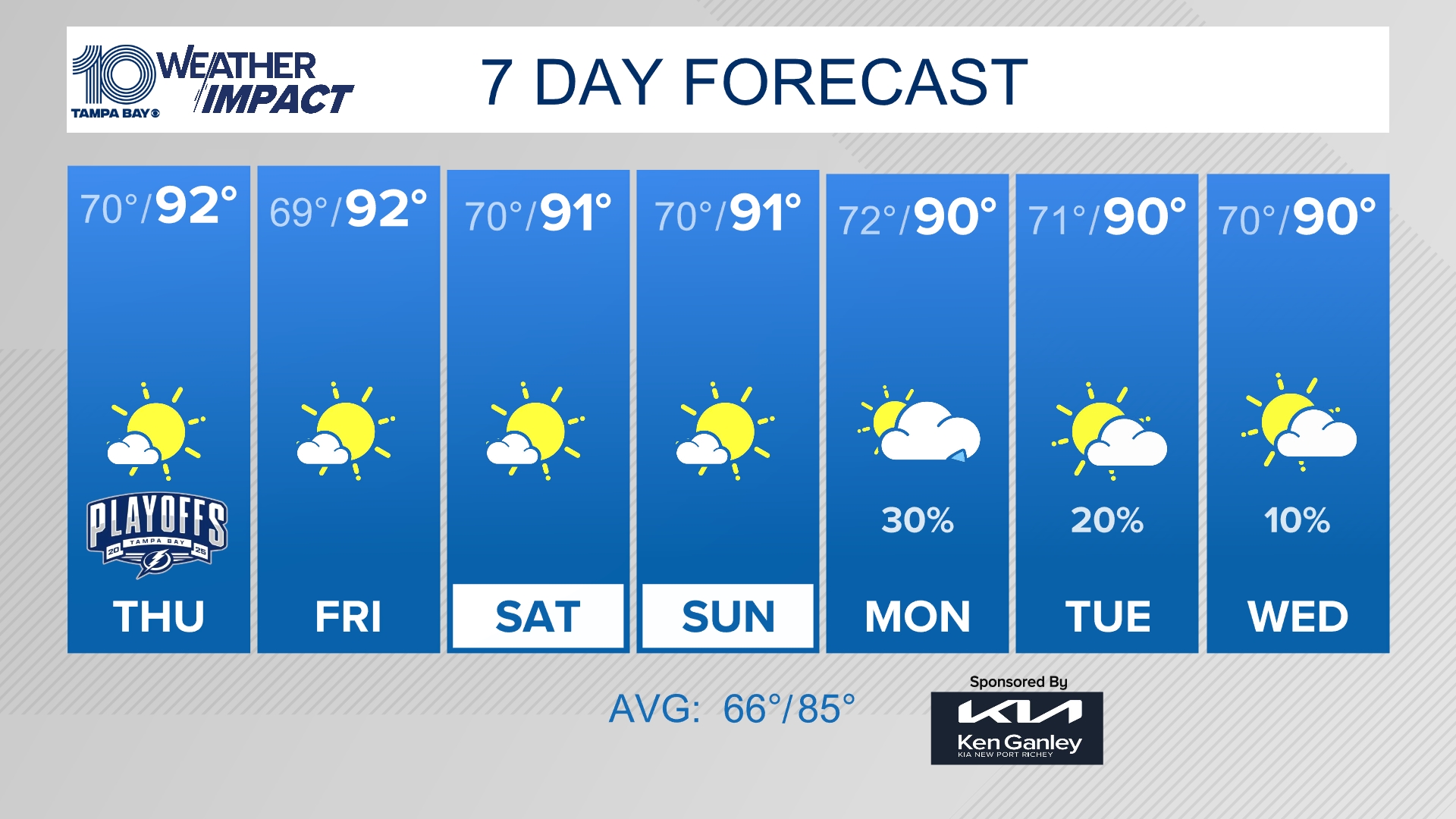 10News WTSP
• As you head out for your morning commute, check out our live blog for the latest traffic updates and road conditions across Tampa Bay.
• If you are heading to today's opening of Star Wars: The Last Jedi, read film critic Steve Persall's review that says the latest installment launches the franchise to another level of action and humor.
• For years, Edge District merchants and residents have been united by their frustration that there isn't enough parking to accommodate the up-and-coming St. Petersburg neighborhood. City Council on Thursday is set to start reviewing a solution: building a new parking garage near Tropicana Field — then giving it over to a developer to run. To understand what the city is thinking, read Charlie Frago's story and follow him on Twitter at @CharlieFrago for updates.
• Police have arrested several people, including a son of a prominent flooring store chain's late founder, as part of an investigation into the death of a 22-year-old woman whose body was found in an alley last year. The woman, Taylor McAllister, a mother of two, was last seen alive at the Palm Harbor home of 52-year-old Robert Butler III, investigators said. His father was the founder of Bob's Carpet and Flooring, the chain with more than a dozen stores in West Florida. Authorities found McAllister's body in an alley near 63rd Avenue S on Dec. 22, 2016.
• By early Wednesday evening, Rays officials for the first time indicated they might get a big deal done before the meetings end today. The Cardinals have emerged as seemingly the best match, with closer Alex Colome most likely to go, and Evan Longoria, among others, potentially included in different iterations. Marc Topkin has the details here, and be sure to follow him on Twitter @TBTimes_Rays for the latest.
• Pinellas Sheriff Bob Gualtieri has suspended two deputies after an internal investigation found they violated agency policies during the arrest of a 25-year-old man that turned violent. Check out the dash-cam video here.
• Big concerts announcements this week include the Gasparilla Music Festival lineup (The Roots, Spoon, Father John Misty and more), R&B icon Mary J. Blige coming to Tampa and Kesha and Macklemore are teaming up for a summer tour. Find all the latest music news on our Soundcheck music blog.
• Many people would rather have coal in their stocking than drink a glass of eggnog by the fire. Hunter Bryant, bar manager at Haven in Tampa, said that's because there's a lot of eggnog out there that has poor texture and far from the best of ingredients. We explore fresh renditions of the classic drink this morning on tampabay.com.
• It's time to plan your weekend! Our critics and writers have their top recommendations for music, stage, family fun and the best movies coming out for the holiday season on our Weekend Planner page.
• Here are the top things to do today in Tampa Bay, including comedian Gilbert Gottfried and Gina Brillon in town, an Andrew Lloyd Webber musical and Nate Najar's Jazz Holiday.