Catching you up on overnight happenings, and what you need to know today.
• We'll have a mild and sunny start to the week, with highs in the upper 70s, according to 10Weather WTSP. A weak cold front brings a chance of rain on Tuesday and slightly cooler temperatures, but we'll see a gradual warming trend by week's end.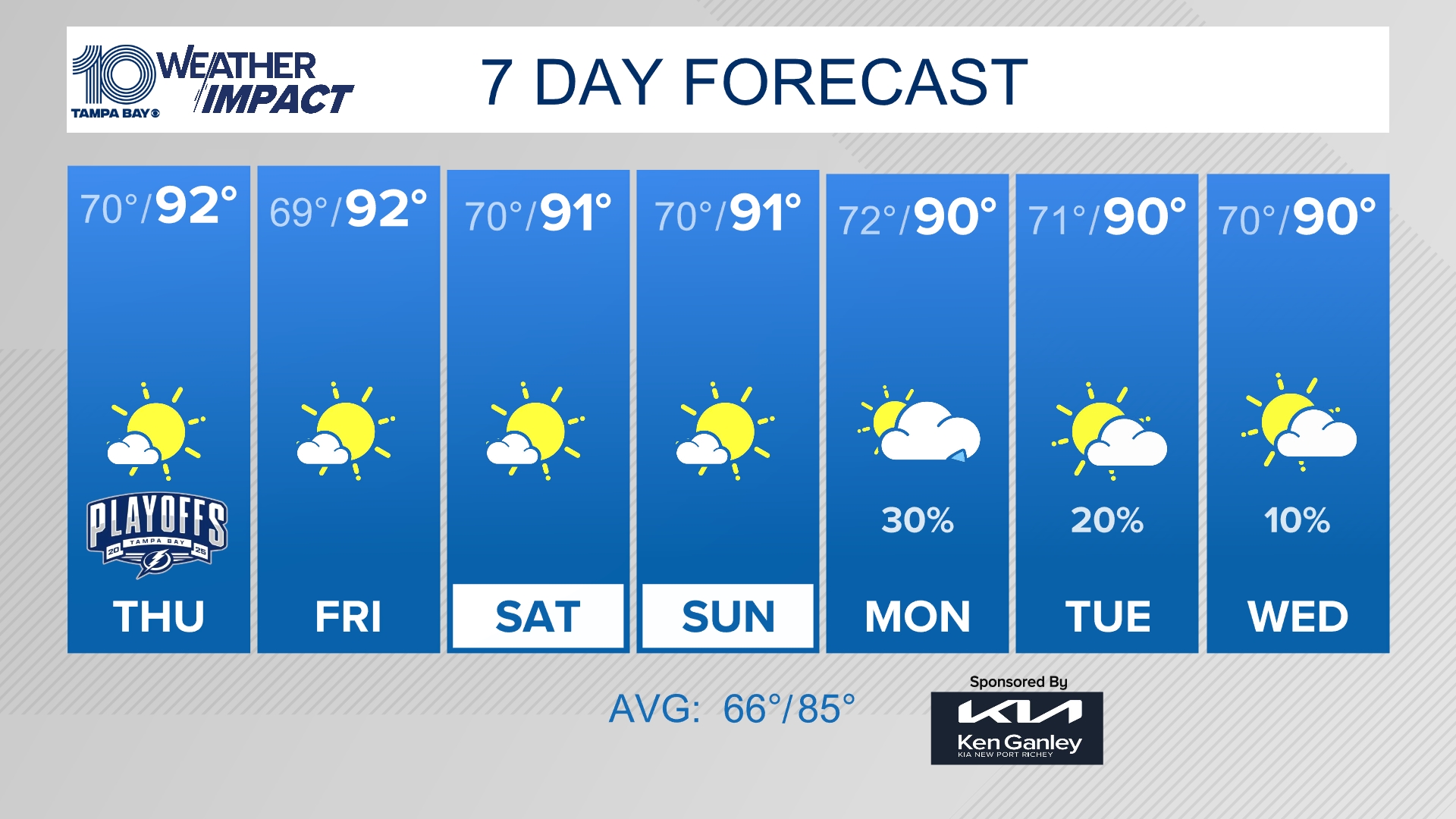 10News WTSP
• As you head out for your morning commute, check out our live blog for the latest traffic updates and road conditions across Tampa Bay.
•?Who had a Patriots-Eagles Super Bowl? Well, that's what we've got Feb. 4 in Minneapolis — kickoff at 6:30 p.m. on NBC. Thomas Bassinger has your first look at Super Bowl LII with this advisory: "You might want to wait before you hand the Patriots the Super Bowl trophy."
• The Women's March returned to St. Petersburg on Sunday, a year after it was the largest protest in the city's history. Organizers said they were protesting gender violence, police brutality, LGBTQ discrimination, limits to birth control and more.
• Advocates of Florida prisoners protested outside of the Florida Department of Corrections in Tallahassee on Jan. 16, demanding answers to questions of alleged price-gouging in prisons across the state. Protesters from dozens of grassroot organizations held signs, demanded to meet with Corrections Secretary Julie Jones and shouted questions at guards standing on the other side of the entrance. "Can someone talk to us about why tampons cost $18?" a protester asked, alluding to the high costs of canteens inside prisons. Are costs out of hand in Florida prisons? Read PolitiFact Florida's analysis.
• Emergency room visits have doubled for dental-related issues since 2000. Many Americans lack dental insurance, and dental coverage isn't included in Medicare plans. All of those factors make local Dept. of Health "free dental day" services extremely popular. Staff writer Justine Griffin discusses.
• In the coming years, a growing number of women will likely face a choice, as imaging centers across the country add three-dimensional (3-D) mammography, to the two-dimensional (2-D) screening women customarily receive. What's not yet clear is whether this newer, more expensive technology is better at catching cancers that are likely to kill. So should it be widely recommended? And who should pick up the extra cost involved? Read more about this new technology at tampabay.com
• More inmates died in Florida prisons last year than in any other year on record, leaving the state scrambling to identify causes and find solutions. The tally, 428 inmate deaths in 2017, was released late Friday by the Florida Department of Corrections and showed a 20 percent increase over previous years. Here are the details.
• Police say two improvised explosive devices ignited inside a mall in Lake Wales on Sunday do not appear to be an act of terrorism.
• Two months before a dozen residents died in sweltering heat at the Rehabilitation Center at Hollywood Hills, the now-shuttered nursing home submitted a plan to county administrators to show the facility could handle crises like a missing resident or a hurricane. The 43-page emergency management plan had errors: typos and an outdated hurricane drill copied and pasted from the previous year. The plan was approved by Broward County, anyway.
• The Union of Concerned Scientists has analyzed the impact of sea level rise, and they have a sobering assessment for coastal Florida — and Tampa Bay — if we take no action. The scientists say chronic flooding will disrupt life to the point the status quo no longer can be maintained. Columnist Ernest Hooper discusses their findings.
• Plan your week! Here are the top things to do this week in Tampa Bay including the NHL All Star game in Tampa with many related fan zones, concerts and parties, as well as the Florida Orchestra performing music from Final Fantasy video game series and the Tampa Bay Home Show in Tropicana Field.
• Arrrrr you ready? The Gasparilla Parade of Pirates is coming Saturday and we have all the insider tips you'll need to get there, avoid trouble and plunder the most booty.