Catching you up on overnight happenings, and what you need to know today.
• The cold is back Tampa Bay. Wednesday will see highs in the 60s and then it gets worse from there, dropping down to the 20s and 30s overnight. The region is under a free watch through Thursday. Cover your plants, bring your pets in and watch out for anyone vulnerable to the cold for the next two days. Get more information from 10Weather WTSP.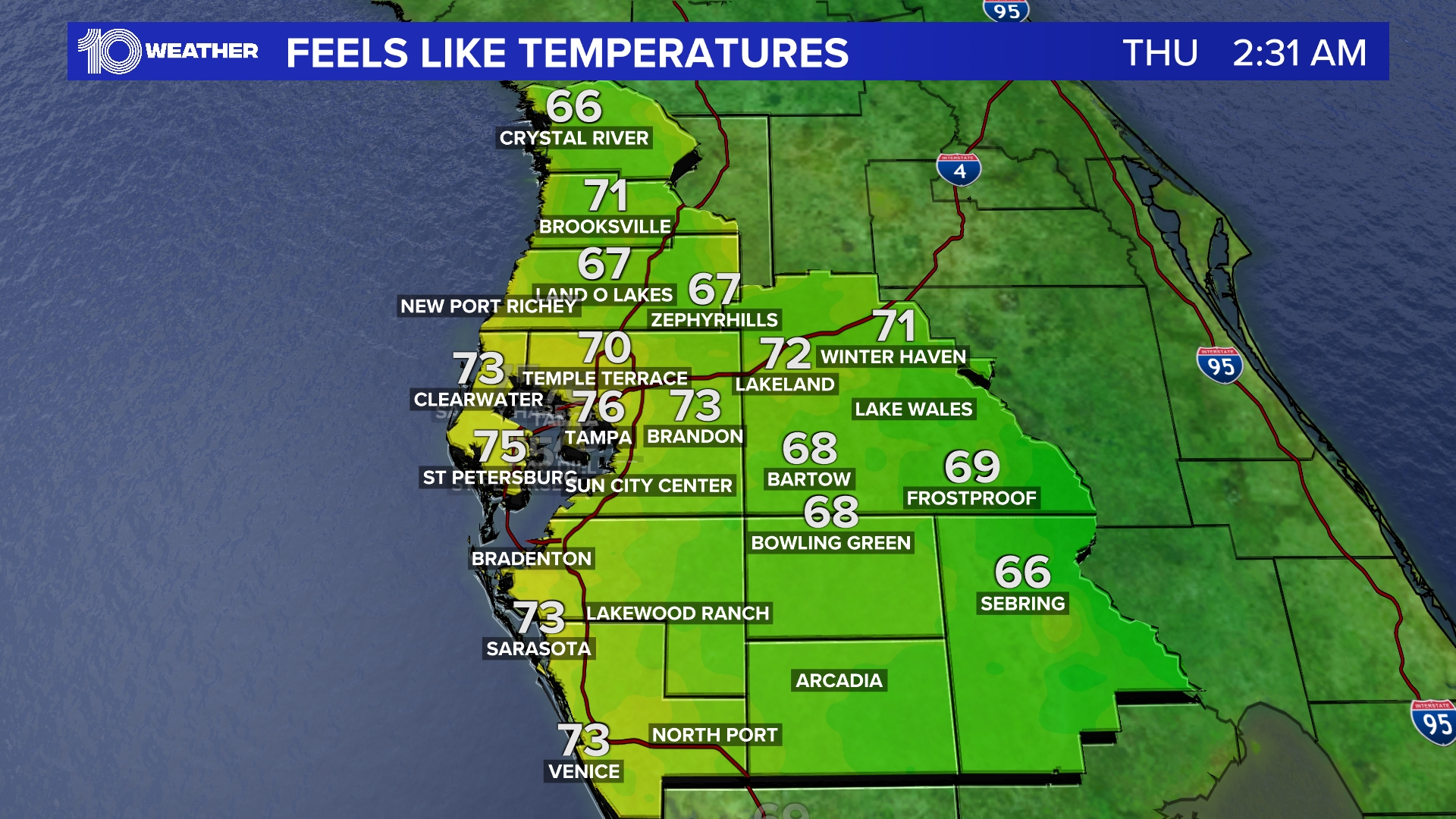 10News WTSP
• As you head out for your morning commute, check out our live blog for the latest traffic updates and road conditions across Tampa Bay.
• Here are the top things to do today in Tampa Bay including the Coasters on stage and a Broadway star at Busch Gardens.
• For the latest legislative coverage from Tallahassee, keep checking The Buzz, which is updated throughout the day by the reporters of the Times/Herald Tallahassee Bureau.
• The man accused in a string of killings in Seminole Heights homicides will be in court this morning for a status hearing. Howell Emanuel Donaldson III was arrested Nov. 30, hours after he gave a bag that held a gun to a fellow employee of an Ybor City McDonald's. It is uncertain what will be discussed today, although State Attorney Andrew Warren could decide whether to pursue the death penalty when the case goes to trial. This is a developing story. Stay with tampabay.com for updates.
• Find out how the Tampa Bay region's traditional public high schools have fared when it comes to graduation rates. A special chart comparing how the schools have done over the past three school years and how their rates have changed at the Gradebook.
• The Port Richey casino boat operator whose shuttle caught fire Sunday, forcing 50 people to jump into cold waters, lost another boat in a similar fire in 2004. Find out what happened then.
• Hillsborough County deputies are conducting a homicide investigation after a man was found dead in the Grant Park area of Tampa early Wednesday morning. Deputies say the man was found at 3703 Carroway Street. This is a developing story. Stay with tampabay.com for updates.
• Gus Muench, 81, has more than 200 traps in the Little Manatee River, where he has crabbed since 1976. Today, he sells his catch and runs an ecotourism business called Gus' Crabby Adventures. Monica Herndon tells his story.
Law enforcement and federal immigration officials will announce today new efforts around the use of immigration detainers. The detainers, or requests from U.S. Immigration and Customs Enforcement that local jails hold onto people suspected of being in the country illegally after they're released on local charges, are at the center of a dilemma for sheriffs and jail operators trying to cooperate with federal officials while honoring a detainee's constitutional rights. Stay with tampabay.com for updates.
• Before their show Friday at the Mahaffey Theater in St. Petersburg, pop music critic Jay Cridlin talked to Steve Martin and Martin Short about their long friendship and why Steve Martin is a better musician than most.
• With a recent report saying only 1 in 10 Americans are eating the recommended federal amounts of fruit and vegetables, our food editor tracked her intake for a week and sees just how hard it is. Pretty challenging!
• Food critic Laura Reiley checked out the recently remodeled Byblos Cafe Is anything lost when one of Tampa Bay's most fabled Middle Eastern restaurants gets a hipper vibe?
• Get weekly cooking tips and recipes, short how-to videos and more at Stark From Scratch, a new cooking blog from Times food editor Michelle Stark.
• No, Mega Millions jackpot winner and Florida man Shane Missler is not sharing his winnings with Twitter followers. As Colleen Wright explains at tampabay.com.