URL: http://www.tbo.com/blogs/divas/tampa-bay-fashion-week-returns-bringing-new-and-reappearing-designers-to/2339823
Tampa Bay Fashion Week returns, bringing new and returning designers to the runway
Published: October 4, 2017 Updated: October 4, 2017 at 04:54 PM
Courtesy of Nancy Vaughn
MAKE IT WORK: TAMPA BAY FASHION WEEK
Now that we've come through Hurricane Irma, we can begin to focus on the things that we enjoy and make us happy. Like fashion.
Lucky for us, Tampa Bay Fashion Week kicks off today. Now in its 10th year, the event was originally scheduled for September, but Irma wasn't allowing it. Some of the designers and models were affected by power outages and flooding issues, so founder Nancy Vaughn made the decision to postpone the event, which is probably for the better, since you may have not been too keen on going to fabulous fashion events when you haven't had a hot shower in a week. Here are the details of the rescheduled event.
EVERYONE HAS A FASHION STORY
This year's theme, "Fashion Is a Story," is a community-driven project in which Tampa Bay fashion professionals and enthusiasts are encouraged to share their fashion journeys and stories on social media using the hashtag #fashionisastory. TBFW also interviewed locals with an affinity for fashion, including our own features editor, Stephanie Hayes. They're great fun to read; find them at tampabayfashionweek.com.
STYLE AND SERVICE DAY
Thursday from noon to 2 p.m., Tampa Bay Fashion Week will take over the Glazer Children's Museum's maker space, "Gadget Garage," where children will be engaged in design thinking. The Fashion Week team will work with students and families to design and create using found objects. 110 W Gasparilla Plaza, Tampa.
STYLISH MOVIE
Join local designer and TBFW O.G. Ivanka Ska at the Dalí Museum Thursday from 6 to 8 p.m. for a screening of Blade Runner (yes, the original; find a review of the new one here). As part of the museum's ArtFlix series, Ska chose Ridley Scott's 1982 sci-fi noir masterpiece. If you think it seems an unlikely pick for a fashionista, think again: Check out Darryl Hannah's high-fashion punk and Sean Young's 1940s glamor. 1 Dalí Blvd., St. Petersburg.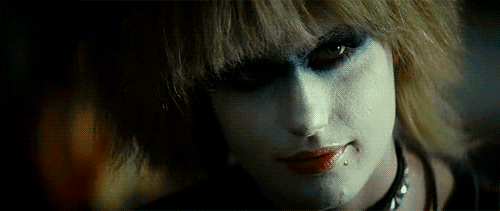 DESIGNERS AND THE RUNWAY SHOW
Community has always been at the heart of TBFW, whose mission has been to introduce emerging fashion and accessories designers to Tampa Bay. This year's designer lineup includes returning designer Elizabeth Carson Racker, whose runway show last year was both beautiful and inspiring. Wendy Ohlendorf, who had participated in a popup boutique event a few years ago, also is returning, but this will be her first time showing on the TBFW runway. New this year are Dolce Couture by Melissa Dolce, and jewelry and shoes from Sopho by Alexandra Bougadis.
Last year, TBFW broke its own mold by including brands from International Plaza, where the runway show was held and where it will return this year. Likewise, mall brands including Banana Republic, Free People and Lilly Pulitzer will show new fashions in the runway show from 6 to 9 p.m. Friday in the Grand Court at the mall, 2223 N West Shore Blvd., Tampa.
Check out a recap of last year's runway show here.
Attendees of the runway show who bring unused beauty products and toiletries to benefit the My Fairy Godfathers foundation will receive a swag bag. My Fairy Godfathers is an organization whose mission is to "inspire happiness, strength, and confidence in girls and women who have faced adversity, through the magical experience of beauty."
POP UP STATIONS
Over the years, TBFW has tried various approaches to selling designers' works. One year, there was a trunk show, another time there was a pop up location for three days. This year, the designers and brands will return to the Grand Court at International Plaza on Saturday, using kind of a market concept. Runway collections will be showcased in actual closets, and rather than the designers' works being available to take home that day, customers will have the chance to work with the designers on customizations. Lilly Pulitzer will preview samples from her spring 2018 line, not yet in stores.
There will also be beauty stations from brands including Origins, Aveda and Bare Minerals. The event runs from 11 a.m.-2 p.m. International Plaza is at 2223 N West Shore Blvd., Tampa. For more information and a full listing of events, visit tampabayfashionweek.com.