UPDATE: The National Weather Service has issued freeze warnings for Pinellas, Hillsborough, Pasco, Hernando, Manatee and Sarasota counties.
A cold air mass is moving southward through the Florida peninsula dropping temperatures across the Tampa Bay area to freezing or below. Steady northerly winds will also combine with the cold temperatures to produce low wind chills intoThursday morning.
Original report follows:
Brace yourself: Tampa Bay is about to be slapped with a burst of cold air and some of the most bitter temperatures it's had all season.
Wednesday morning may have been chilly, but a truly brutal cold is expected to set in overnight into Thursday morning. Lows across the bay area will be near or below freezing, said 10Weather WTSP meteorologist Grant Gilmore.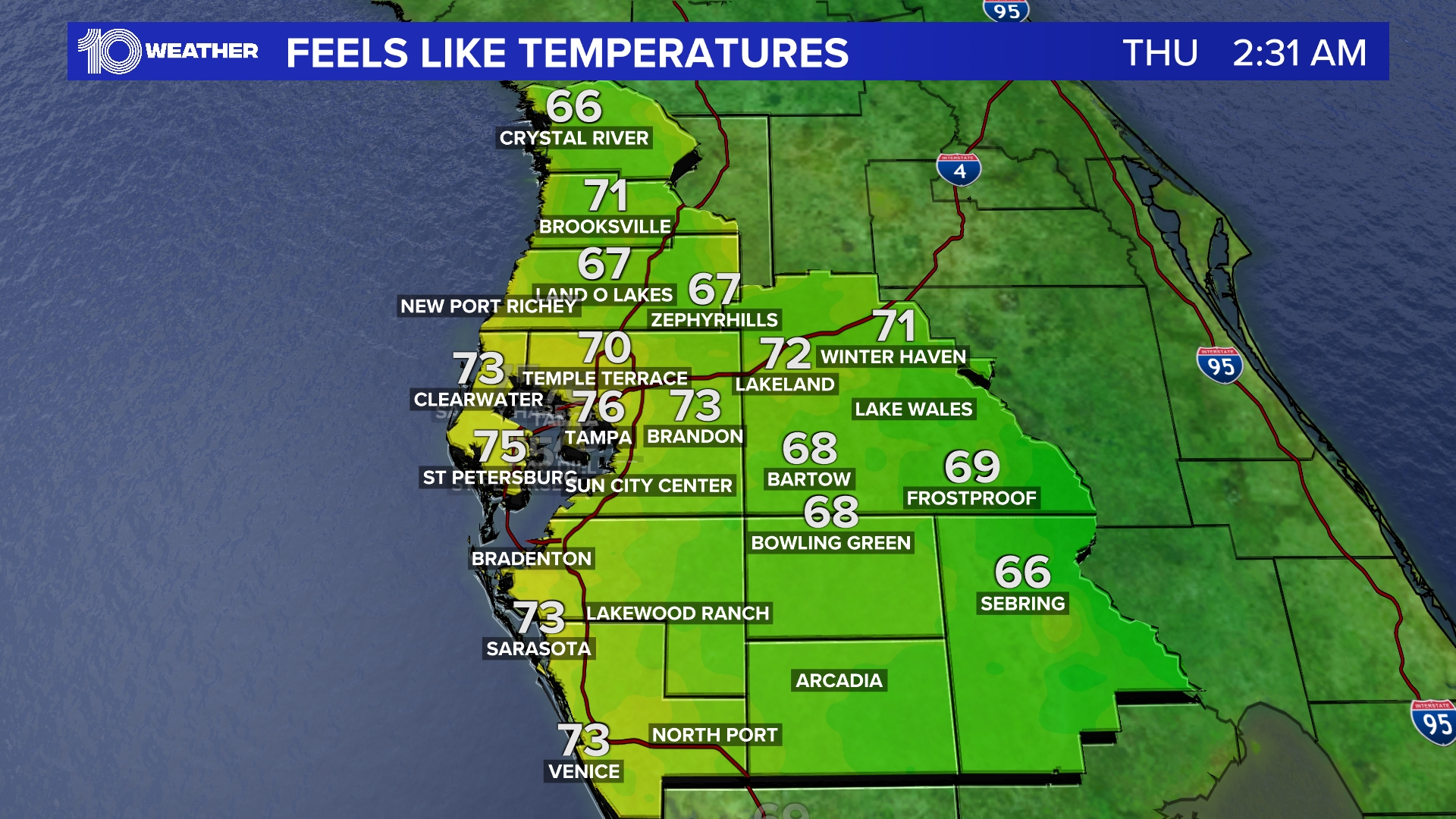 10News WTSP
Hard-freeze warnings have been issued in Pasco and Hernando counties until 9 a.m. Thursday. Freeze watches have been issued for much of the rest of the bay area, except coastal Pinellas County.
Highs tomorrow will only reach the 50s. While highs on Wednesday will top out in the low 60s.
PREVIOUS COVERAGE: Will the cold snap kill any of Florida's pesky pythons? (Jan. 4)
The big chill began to arrive this afternoon, as temperatures began their dip with the front's arrival, fueled by cold breezes from the north.
The Hard Freeze and Freeze Watches have been stepped up to warnings for the Bay Area. The cold is coming! pic.twitter.com/wu3fw405UF

— Grant Gilmore (@grant_gilmore) January 17, 2018
Temperatures inland and up along the Nature Coast will likely drop into the mid-upper 20s by Thursday morning.
That could mean a broken record in Brooksville, where the lowest recorded temperature for Jan. 18 was 25 degrees back in 1977.
Hillsborough County, including Tampa, could drop between 28 and 32 degrees. The last time it was that chilly on Jan. 18 was back in 1981 when it hit a record-low 29 degrees.
On Wednesday morning areas in the Florida Panhandle were already experiencing light snow mixed with rain and sleet.
The moisture should dry up, leaving little to no rain chance on Thursday, meaning sunny skies will accompany the frigid cold.
PREVIOUS COVERAGE: Alligators use bizarre, and creepy, ancient ritual to survive North Carolina's arctic blast (Jan. 9)
The freeze watches and warnings mean it's time to bring pets inside, cover up plants and check on those most vulnerable to low temperatures. Shelters have already been opened in Pinellas, Hillsborough, Pasco and Hernando counties.
At least the cold snap will be short-lived. Lows will over near the 40s on Friday and climb back to the 60s and at, or above, 70 this weekend, Gilmore said.
MORE WEATHER
DOWNLOAD: Get the tbo Weather App and see where storms are headed
LIVE RADAR: Interactive storm track, hourly outlooks, 10-day forecasts and weather alerts
ALERTS: The latest advisories from the National Weather Service