Catching you up on overnight happenings, and what you need to know today.
• Could Tampa reach 100 degrees for the first time ever? It's a possibility. Expect more record or near-record heat today, with temperatures pushing into the mid-to-upper 90s again, according to 10Weather WTSP. There is a slight chance of rain that will increase into the weekend, potentially pushing high temperatures down by a few degrees.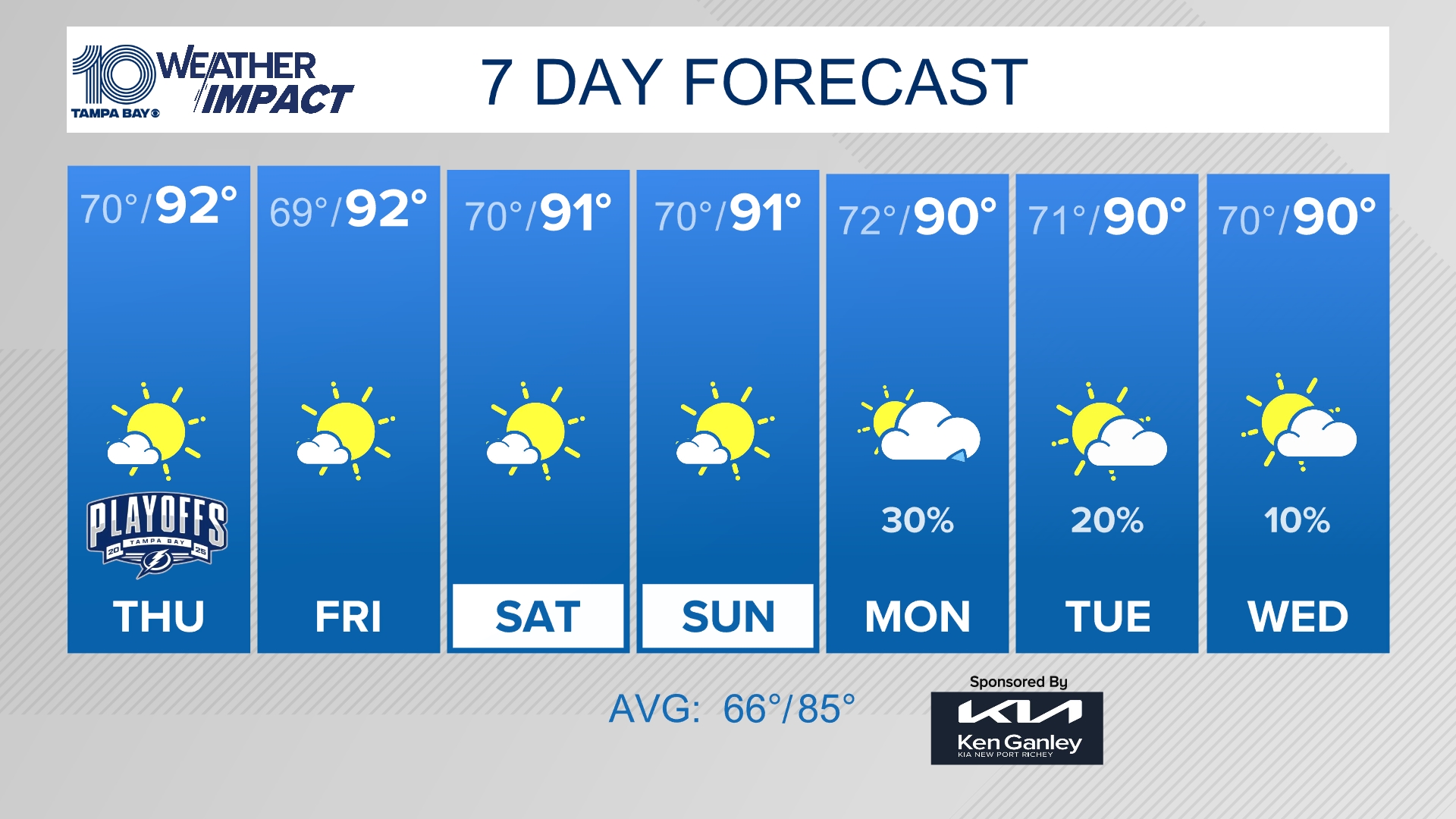 10News WTSP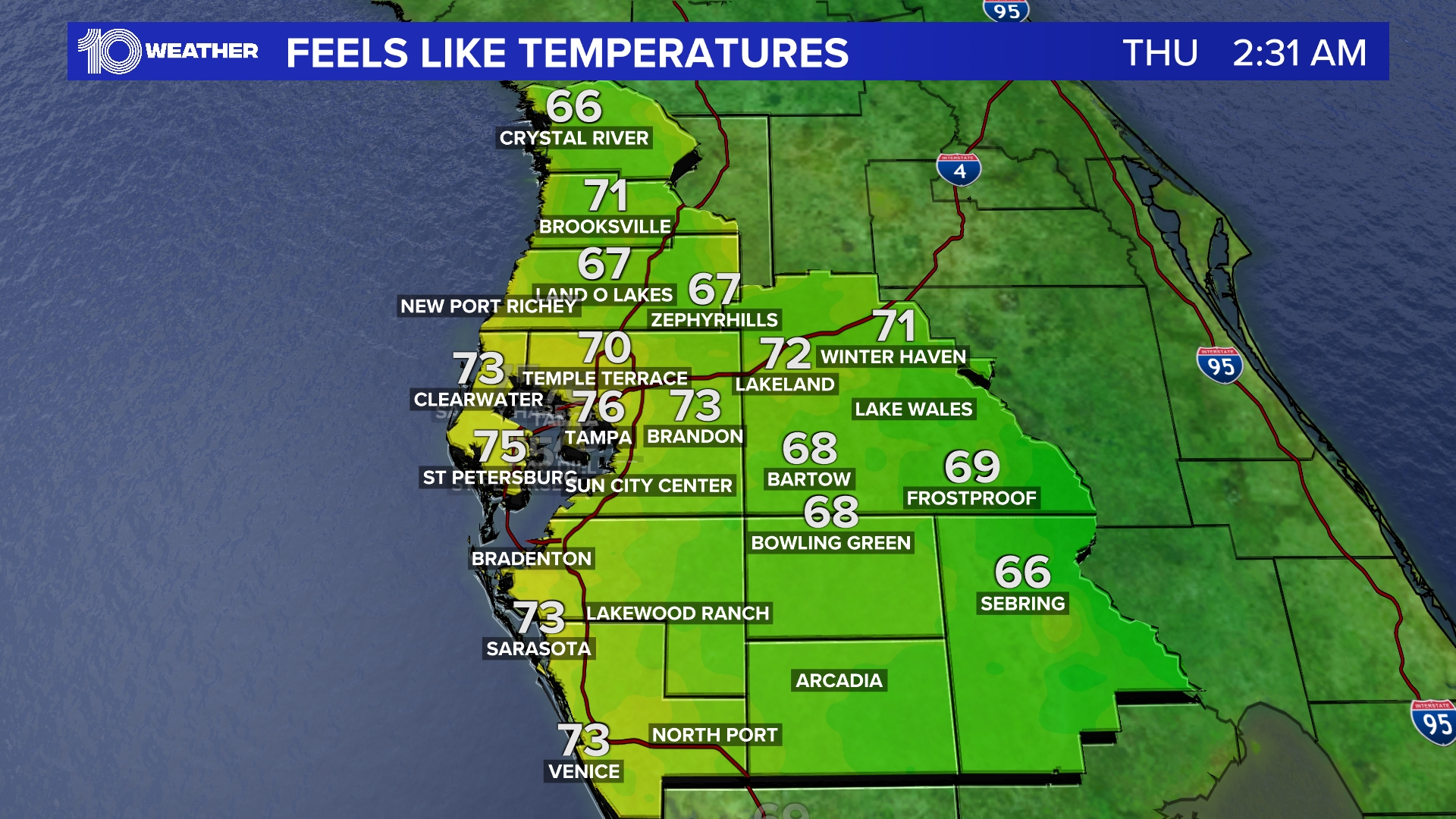 10News WTSP
• As you head out for your morning commute, check out our live blog for the latest traffic updates and road conditions across Tampa Bay.
• Over the objections of the mayor's office, the City Council voted 5-2 on Thursday to delay buying dashboard cameras for new police vehicles. City Council member Karl Nurse led the charge, saying the St. Petersburg Police Department is well-trained and doesn't need to keep a visual record of officers doing their job.
• The 2018 Florida governor's race is quickly gaining steam so Times Political Editor Adam C. Smith asked more than 200 Florida Insiders who they think has the advantage. See the results this morning on The Buzz.
• President Donald Trump on Thursday denied ever asking FBI Director James Comey to back off his agency's investigation into possible collusion between the Trump campaign and Russia, and the role played by former national security adviser Michael Flynn. Stay with tampabay.com for the latest from D.C. At the news conference, the president also reiterated his claim that the Justice Department's decision to appoint a special counsel to look into possible collusion with Russia was "a witch hunt," saying he had never colluded with the Russians. Stay with tampabay.com for the latest from the White House.
• From the Times editorial board: North Korea fired a rocket high into space this week, signaling the rogue nation's potential to destabilize global security. This is an ominous development, and world leaders need to halt the north's nuclear drive before the only recourse is a military one. Also, the Museum of Science and Industry's decision to downsize is a good move that should bolster public confidence in MOSI and better position it to succeed at its new location downtown. Read the editorials and today's letters to the editor at tampabay.com/opinion.
• Giving in to the zen of zoom, Times entertainment editor Stephanie Hayes now communes with her commute and uses podcasts, sing-alongs, alone-time and more to take the bad road and make it better. Read her saga and tips at tampabay.com/features
• The Museum of Science and Industry will close most of its building at the end of summer, a drastic step toward getting the museum's troubled finances under control as it prepares for a potential move downtown. The museum's original, 37-year-old structure will shutter, perhaps for good, after Aug. 13, museum leaders said Thursday. The IMAX Dome Theatre will shut down as well. Any exhibits that are not eliminated will move into the newer Kids in Charge wing of the building. The ropes course will remain open.
• Six months ago, Kyle Simon ditched his car and pretty much walked where he needed to go. And he did this here, in one of the most dangerous places in America to be a pedestrian. Can you see where this story is going? Columnist Sue Carlton fills us in.
• As Senate President Joe Negron aims to make Florida's 12 public universities "elite" destinations, state lawmakers this spring voted to give an extra $232 million next year to those institutions — while simultaneously cutting $25 million that has helped the state's 28 state colleges serve students who are most in need. Kristen M. Clark explains what that means locally.
• In case you missed the news this week, Tampa is reportedly the top choice to host the 2018 NHL All-Star Game, which would bring one of hockey's premiere events to town for the first time in nearly 20 years. Anytime a big-time sporting event comes to town, that means big-time music is probably coming, too. And the NHL All-Star Game would be no different, Jay Cridlin writes.
• The Lightning brass will get their money's worth in Windsor, Ontario, this weekend, with five prospects competing in the Canadian Hockey League's Memorial Cup, which begins today. Find out why the Lightning's director of player development calls this a "pretty good stop" at tampabay.com/sports
• Here are the top things to do today in Tampa Bay, including Hollywood star Vivica A. Fox in a variety show of singers and comics. Plus, there's a food truck rally downtown.