Eclipse Day in Tampa Bay should carry typical summertime conditions, meaning some popup clouds could obscure the historic event.
But they shouldn't cause too much of a problem.
The Tampa Bay area will have partly cloudy skies that should stick around through most of the day as the moon moves across the sun between around 1:15 p.m. and 4:15 p.m.
"Yes, it will be partly cloudy, some areas will have a few clouds," 10Weather WTSP meteorologist Bobby Deskins said, "but a lot of us will have a decent chance of seeing the eclipse."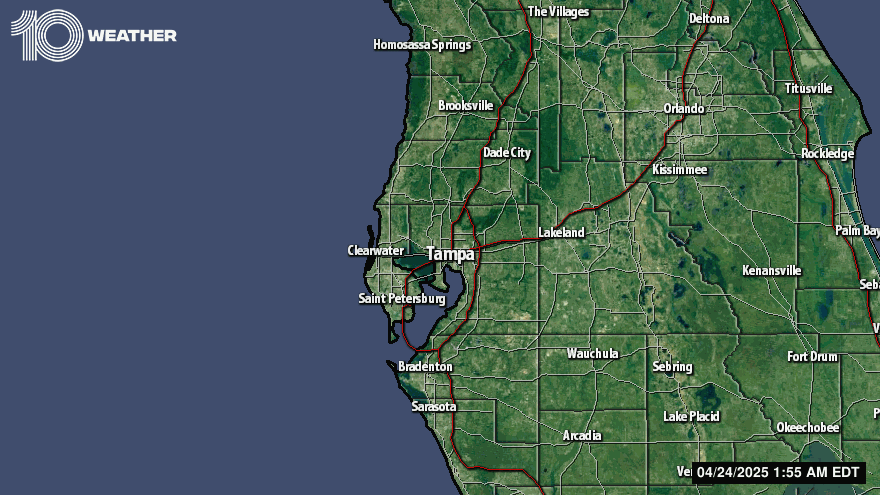 [WTSP]
For Florida, peak coverage of the moon — which will be around 81 percent — is expected to come at about 2:49 p.m. and last only a few minutes, Deskins said.
Monday should be mainly dry for this time of the year, with a 20 to 30 percent chance of isolated evening showers.
DOWNLOAD: Get the tbo Weather App and see where storms are headed
While the sun may be covered for a time, highs still reach the low 90s by the afternoon.
The slightly drier weather doesn't last long, though, Deskins said.
Rain chances climb throughout the week, hitting 50 to 70 percent by midweek and staying there through the weekend.
WHERE TO WATCH: MOSI, SPC, libraries offer safe solar eclipse viewing Monday
Meanwhile in the tropics, Invest 92-L has a 10 to 40 percent chance of development but is expected to hover along the east coast of Florida and not gain much steam, forecasters said.
Contact Samantha Putterman at [email protected] Follow her on Twitter @samputterman.