Catching you up on overnight happenings, and what you need to know today.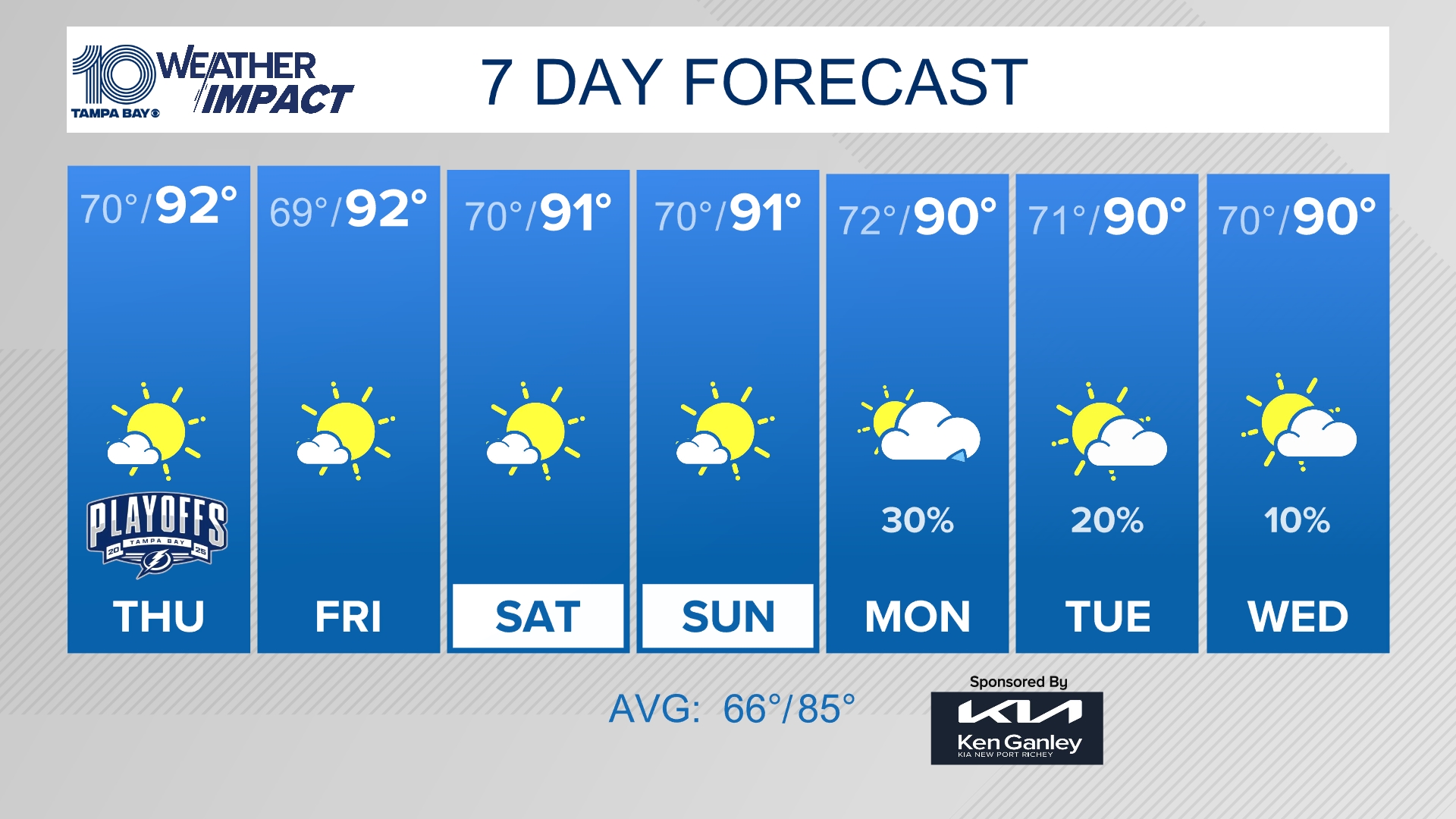 10News WTSP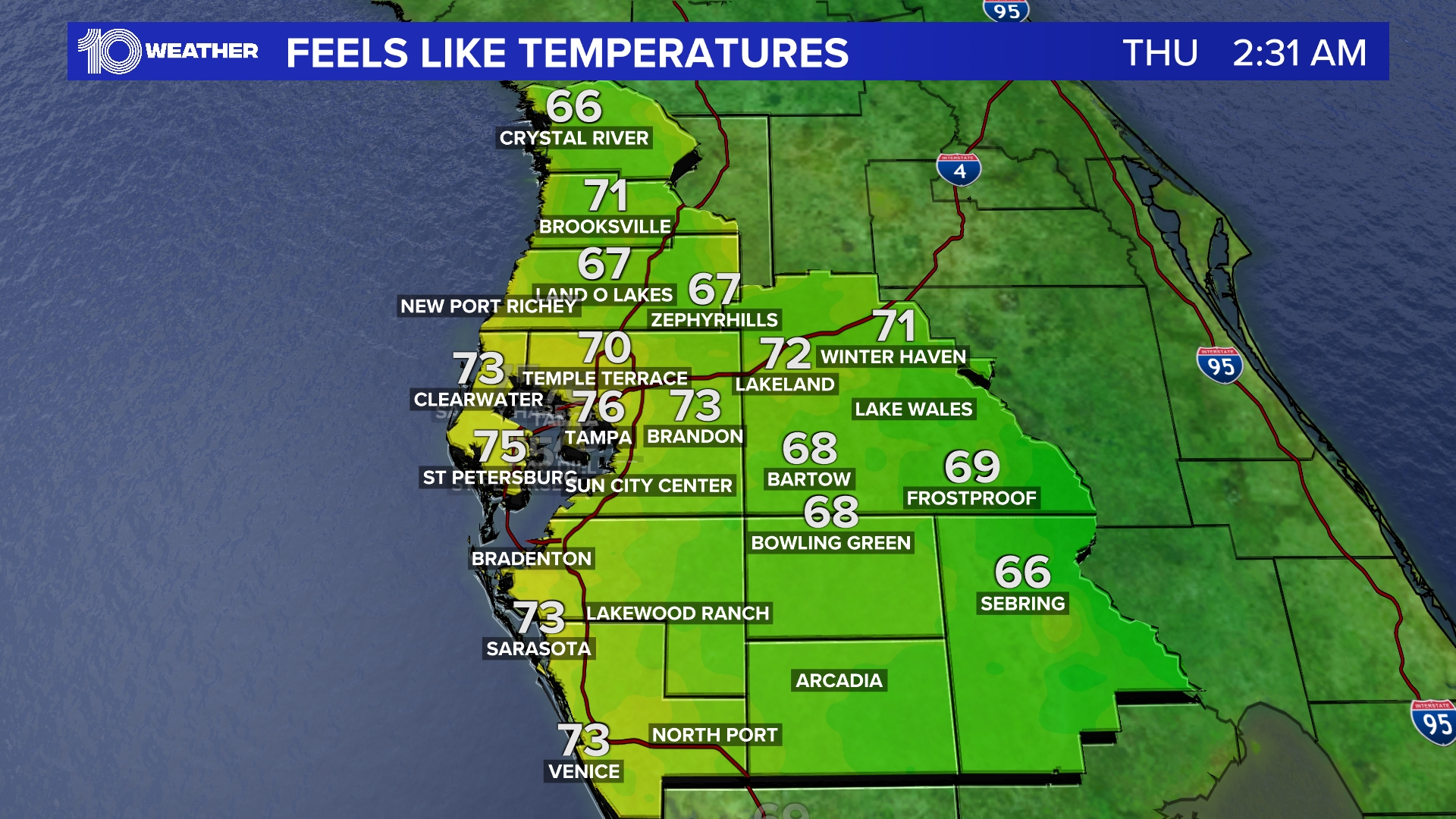 10News WTSP
• Expect temperatures in the 60s this morning, warming to the upper 80s later in the day, according to 10Weather WTSP. Rain chances are low, about 10 percent across most of the region. But a front may bring much-needed showers late Sunday or early Monday. Check our live radar before you head out this morning.
• Running late? See our live blog for the latest traffic updates and road conditions across Tampa Bay.
• Here are the top things to do today in Tampa Bay, including comic Tommy Davidson and roots rocker Rod Melancon.
• Welfare recipients in Florida would face tougher penalties for failing to meet work requirements and some food stamp recipients could become ineligible if lawmakers in the Florida House have their way. Michael Auslen spells out what this could mean.
• Century Oaks, one of the grandest estates in Tampa Bay, has one for the record books. It's just sold for $11.18 million, the highest price ever paid for a home in the area. Here's what the new owners got for their money
• The Clearwater City Council will vote at 6 p.m. on whether to purchase a 1.4 acre vacant lot from the Clearwater Marine Aquarium, which the Church of Scientology is also lobbying to buy. Tracey McManus has the backstory.
• The Tampa City Council meets at 9 a.m. and will consider extending its six-month moratorium on permitting facilities to dispense medical marijuana. The moratorium is due to expire on May 17. But officials say that with five bills in the state Senate on how to implement Amendment 2, the city will need more time to consider anything the Legislature ends up passing. So the moratorium could be extended until Aug. 15. Check back with tampabay.com to see what the council decides.
• Police say Luis Manuel Vila III, 18, attacked a Tampa police officer who had shocked him with his Taser on Wednesday night. That's when a cab driver rushed into action. Colleen Wright has the details.
• Only one of the U.S. military's major command headquarters has its own institute of higher learning, Special Operations Command at MacDill Air Force Base. Later this morning, SOCom opens a new, $43 million home for its Joint Special Operations University. The move comes six years after the university set up shop in a vacant bank building across the street from the Dale Mabry gate. Read more from Howard Altman.
• We talked to scientists around Tampa Bay about Saturday's March for Science, which is expected to be an unprecedented display of solidarity by science advocates around the world for Earth Day. Some, however, worry about a backlash.
• From the Times editorial board: This is a defining moment that tests the independence and courage of the Clearwater City Council as the Church of Scientology turns up the pressure to cancel a land sale to the city. The choice is clear: Stand up to the intimidation and complete the sale — or surrender and cede downtown to Scientology forever. Also, Florida has an affordable housing crisis, whether state lawmakers acknowledge it or not. The state's affordable housing trust fund is a crucial tool to ensure a safe, adequate housing supply for lower-income residents. The Legislature needs to protect it, not drain it. Read the editorials and today's letters to the editor at tampabay.com/opinion.
• What does the Wyndham Grand Resort on Clearwater Beach have in common with an office plaza in Haines City, a Crunch Fitness center and the University of Miami's life sciences building? They're all tied to an increasingly popular, and controversial, way for foreigners to become legal residents of the U.S. Susan Taylor Martin has the details.
• Self-portraits created by seven students who participated in a four-week LGBTQ Expressive Arts Workshop led by local artist John Gascot will be featured at a reception from 3-6 p.m. Saturday at Donnelly COVE, 5705 Park Blvd., in Pinellas Park. For LGBTQ students in Pinellas, it's a chance to reveal their world through art.
• The Cross-Bay Ferry's six-month trial hasn't even ended yet and Hillsborough County commissioners are already looking to bring it back, Steve Contorno writes.
• Last month, Brock Troutman was convicted of drunkenly running down and killing a Clearwater Beach tourist who was crossing the street with his daughter in 2015. On Monday, he was sentenced to five years in prison. On Wednesday, a judge paved the way for Troutman to be released from jail. Laura Morel explains why.
• If you were planning to get a Busch Gardens Fun Card this year, the deal that also gets you a free Adventure Island water park pass is about to expire. Read here for the details.
• It's time to plan your Weekend! Consult our Weekend Planner page for the top picks from Times writers and critics, including artists to check out at the Mainsail Art Festival, top food festivals, top concerts including Neil Diamond and Kenny G, lots of Earth Day events and TV chef Alton Brown getting messy.
• Tonight you can attend a preview, but first read our critic's look at this year's American Stage in the Park production of Hairspray . The show runs through May 14 in Demens Landing and it promises a concert-like experience this year.
• The relevance of The Handmaid's Tale isn't lost on anyone. And the television adaptation of Margaret Atwood's famous dystopian novel is here to remind us, to quote the book: Don't let the bastards grind you down. Read Chelsea Tatham's review.
• The joy and the plight of any audiobook lies in the narrator, Stephanie Hayes writes. Most books are pretty digestible, but the complexity of written dialogue can trip up a single reader. Not the case with The Handmaid's Tale audiobook, narrated by Claire Danes. Check out her review.
• Kenny G, who performs Friday at Coachman Park in Clearwater, still practices three hours a day, running his scales and perfecting his technique, just so he can stay as sharp at 60 as he was at 17, when he first joined Barry White's Love Unlimited Orchestra. Jay Cridlin previews his appearance.
• Did Tampa's Brad Culpepper survive on Survivor? Check out Sharon Kennedy Wynne's recap.
• Want to know when the New England Patriots will be coming to RayJay? What cold weather games the Bucs will be subjected to? If Tampa Bay will land in prime time? The NFL plans to release league schedules around 8 tonight, so keep an eye on tampabay.com/sports.
• Wednesday night's Rays-Tigers game ended in unconventional fashio. Marc Topkin spells out exactly what happened.